24/7 Emergency Plumbing Services
We spend so much time using the plumbing in our residential or commercial property that we forget how critical it is- until a significant problem occurs!
If you are experiencing any of the plumbing emergencies below, call us now as we have 24 hour emergency plumbers standing by!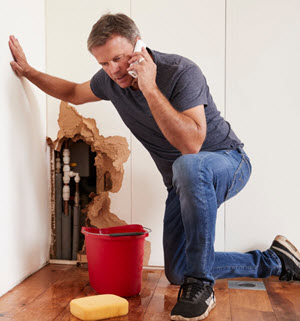 Sewer Backup
Clogged Sink(s)
Clogged Toilets (s)
Burst Water Pipe (s)
Main Water Line Problem
Hot Water Heater is Out
Much More
We get so comfortable with its smooth operations that we're surprised when our plumbing system starts to fail. It's even more shocking when a pipe burst or a toilet overflows in the middle of the night. When this happens, you generally will find yourself looking for a 24/7 emergency plumbing service.
The Plumber Guys offers emergency plumbing services 24 hours a day, seven days a week, to service our clients during any emergency. There is no need to keep searching for 24 hour emergency plumbing services near me or best 24 hour plumber near me. Call us now and we will be right out- we are the best!
Plumbing Emergency Any Time of the Day or Night
Plumbing issues, including gas line problems, don't occur at any specific time on a given day or night. They happen after midnight, on a holiday, or during a special occasion. They even happen when you're away from your property for an extended period.
When this happens, call The Plumber Guys, and we will respond promptly, sending out a crew that specializes in the issue you are having. By getting there quickly, we can minimize any further damage and get your problem fixed promptly. While we are there, our plumbing technicians will do a courtesy inspection of all your plumbing to ensure there are no other signs of pending problems.
You might be asking yourself, what does a 24 hour plumber cost? Well, call us right away and we can give you a quote over the phone. However, the longer you wait the more costly it may become if additional damage occurs.
That being said, while your are waiting for us to arrive, there are some things you can do to help minimize damage.
1- Find your main water supply and turn it off. This will stop any water from leaking and causing damage to your walls, floors, etc.
2- If there is anything in the leaking water area, such as furniture, rugs, etc., move them to a dry place.
3- Try and soak up any water that has gotten on your floors by using a mop or towels. You want to do this before the water has a chance to soak into the floor, causing additional damage.
Full-Service Options
While some 24/7 emergency plumbing services have limited options if they must cover an off-hours issue, our plumbers provide full-service choices no matter the time of day or night. If your water heater needs to be replaced, we won't wait until the sun rises to make it happen.
Plumbing Experts
Were you searching for emergency plumbers near me cheap? If so, you will not find "cheap" at The Plumber Guys. What you will find is exceptional service at competitive prices. Our on-call technicians are subject matter experts (SMEs) in all plumbing aspects. We won't come to your residence or commercial property and not be able to fix the problem. We send out the most experienced plumbers for the issues you are facing. Our plumbers are friendly, licensed, and prepared to handle any situation that arises.
Permanent Fixes
When you encounter an off-hours plumbing issue, our technicians come to fix it permanently. We do not provide a temporary patch to "hold over" until our more experienced plumbers come to work during normal business hours. If you have a plumbing issue, it has to be resolved quickly and by a trained professional.
Available Parts
A call for service at two in the morning doesn't mean our plumbing technicians come unprepared. In addition to being equipped with the necessary repair tools to fix any plumbing situation, we also have most replacement parts on our trucks. Therefore, repairs are made quickly and tested to guarantee their proper operations.
If you find yourself in need of a 24/7 emergency plumber, please call us any time of day or night. Speak with one of our friendly staff, and we will have your emergency plumbing issue fixed in no time.